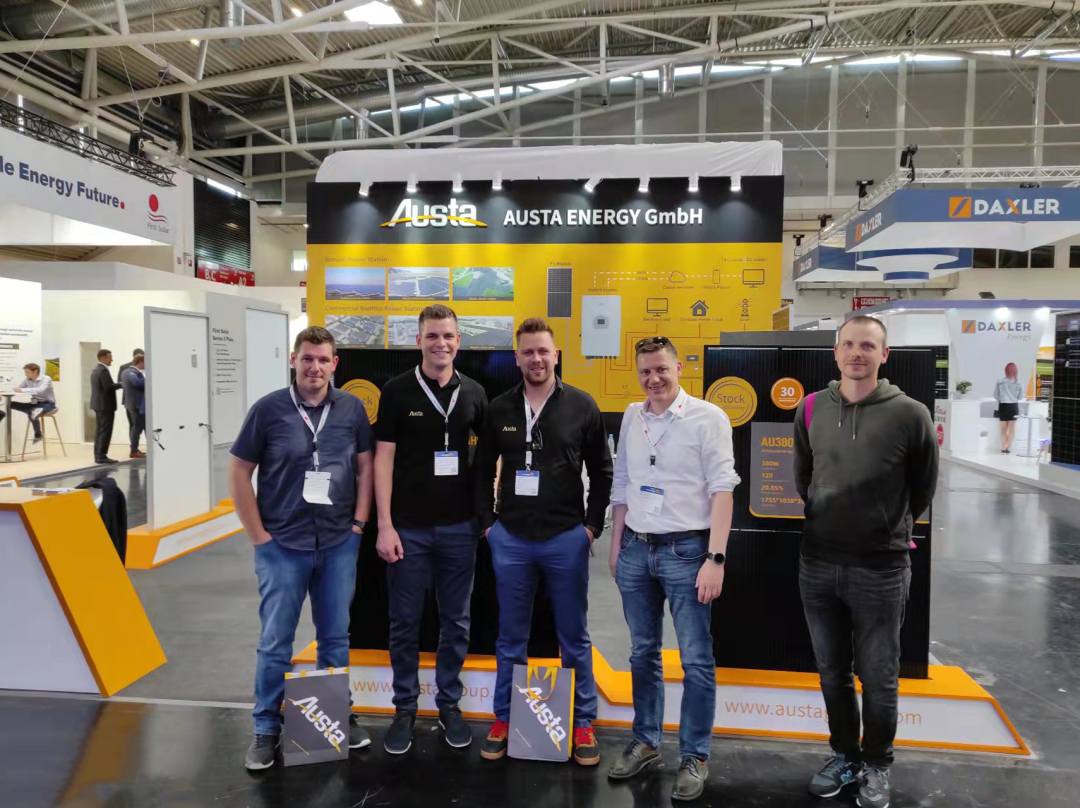 From 11th to 13th of May, "Intersolar Europe 2022" is held in Messe München, Munich, Germany, Intersolar Europe is the largest and the most influential solar energy exhibition in Europe, attracting loads of suppliers and buyers to attend.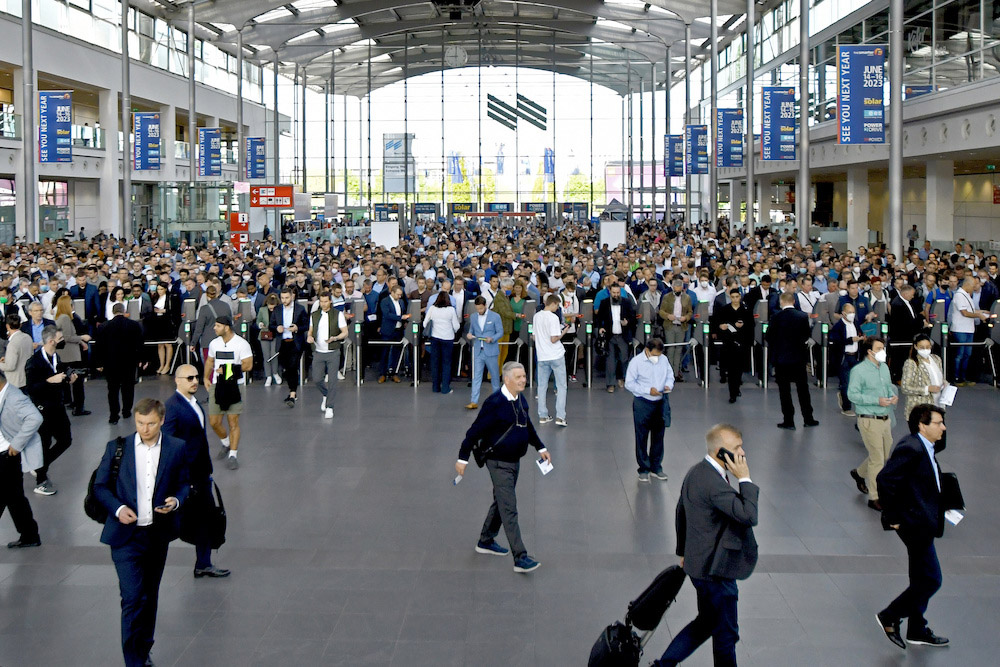 "Intersolar Europe" is back after two years break due to pandemic, we can feel the excitement from the crowd, the exhibition hall is full of photovoltaic specialists, include manufacturers, wholesalers, distributors, service providers and etc., there are more than 800 exhibitors and over 50000 professional visitors, it's the best platform to present our innovative products and exchange ideas. In this exhibition, Austa is presenting the latest product portfolio including inverters, portable power bank and PV modules.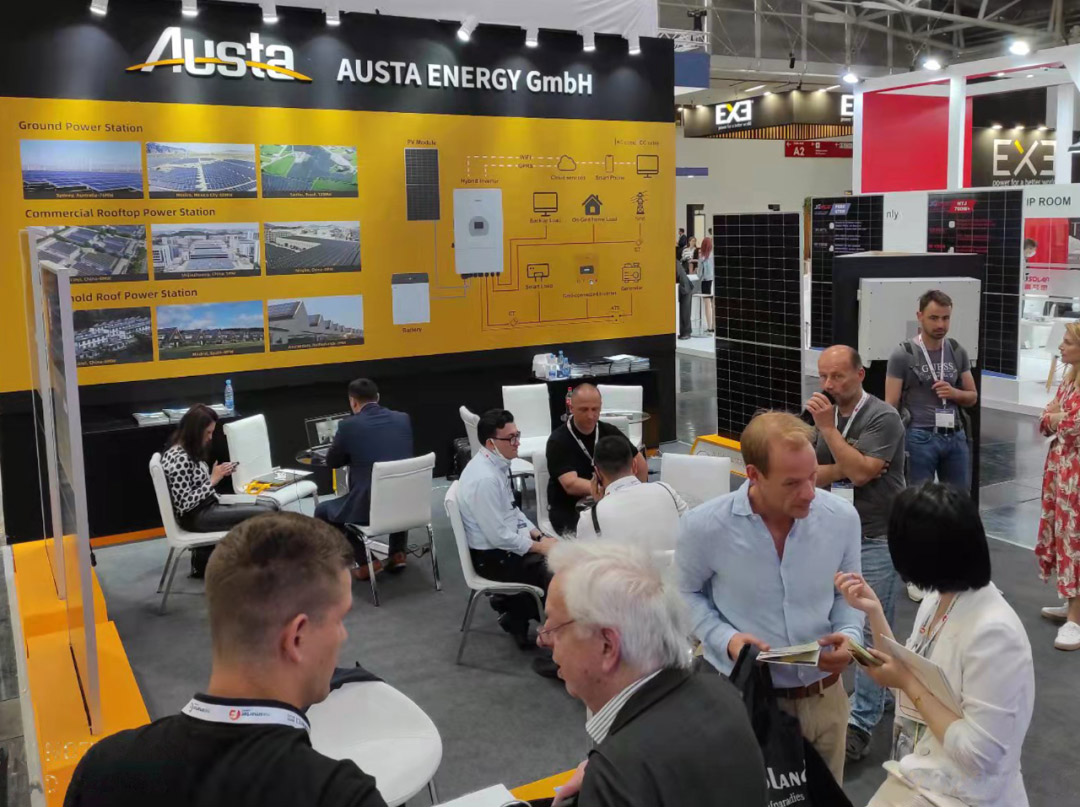 On day 1 of the exhibition, many visitors come to our booth and inquired about our products, attracted a lot of attentions from clients and specialists.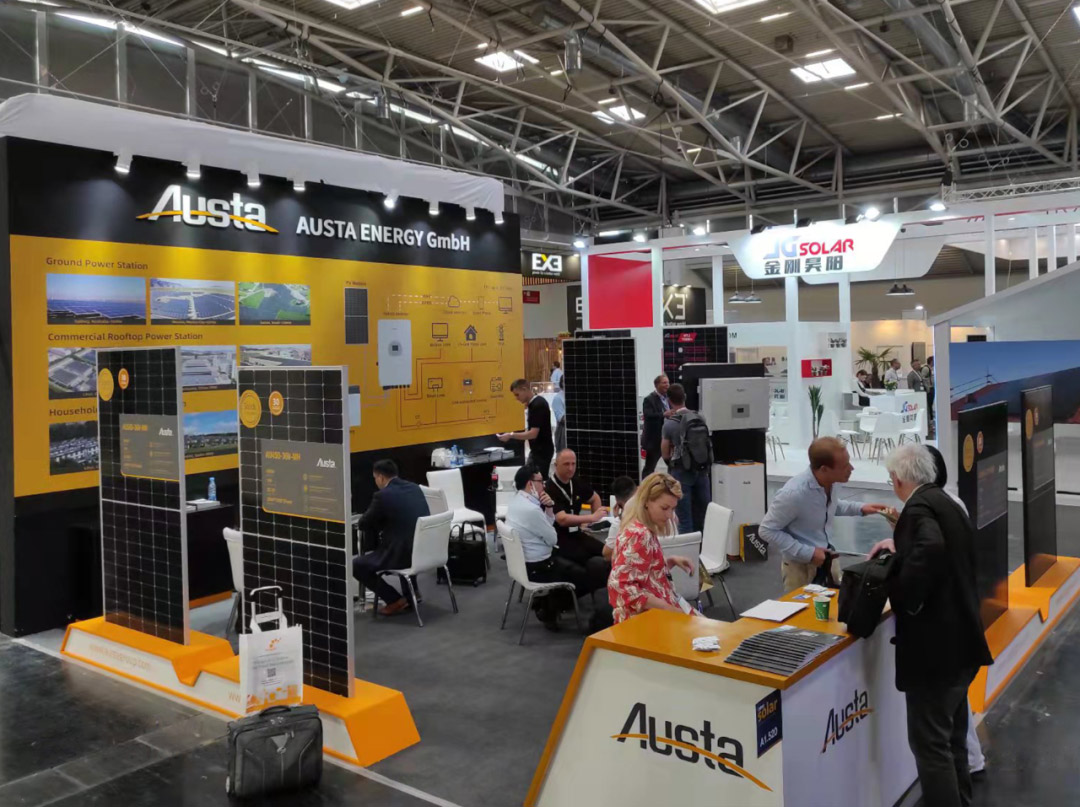 Austa is founded in 2009, headquartered in Ningbo, China, a national high-tech enterprise specialized in designing, manufacturing and selling solar products and solutions. The product line including PV module, inverter, solar pump, battery and photovoltaic system, we are committed to provide vertically integrated solution from consulting, financing designing, commissioning to smart operating and maintaining. From the company foundation, we established overseas subsidiaries in over 10 countries such as Netherlands, Germany, USA, India, Bangladesh, Myanmar, Pakistan and etc., our business network penetrates to over 100 countries and regions.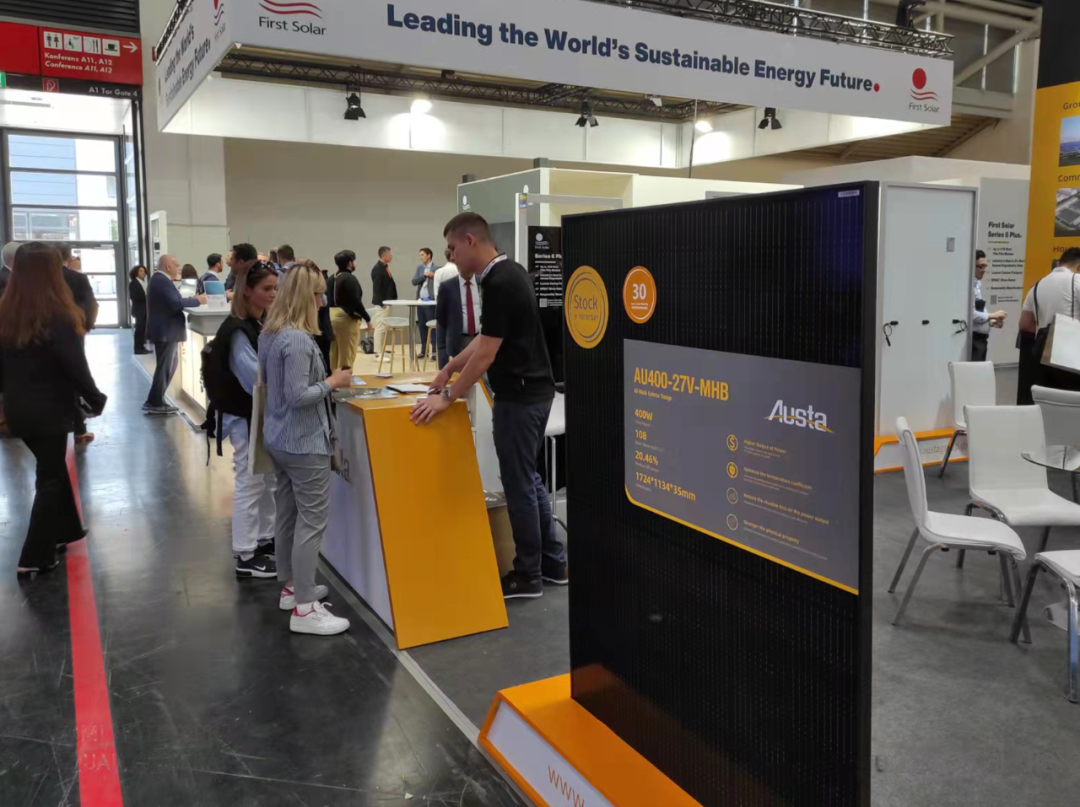 As far as the European market is concerned, Austa has offices and branches in Germany; Dutch based warehouses which supports direct delivery of readily available products across Europe; In Germany, Slovenia, Poland and other countries, Austa is constantly developing localized sales and service team.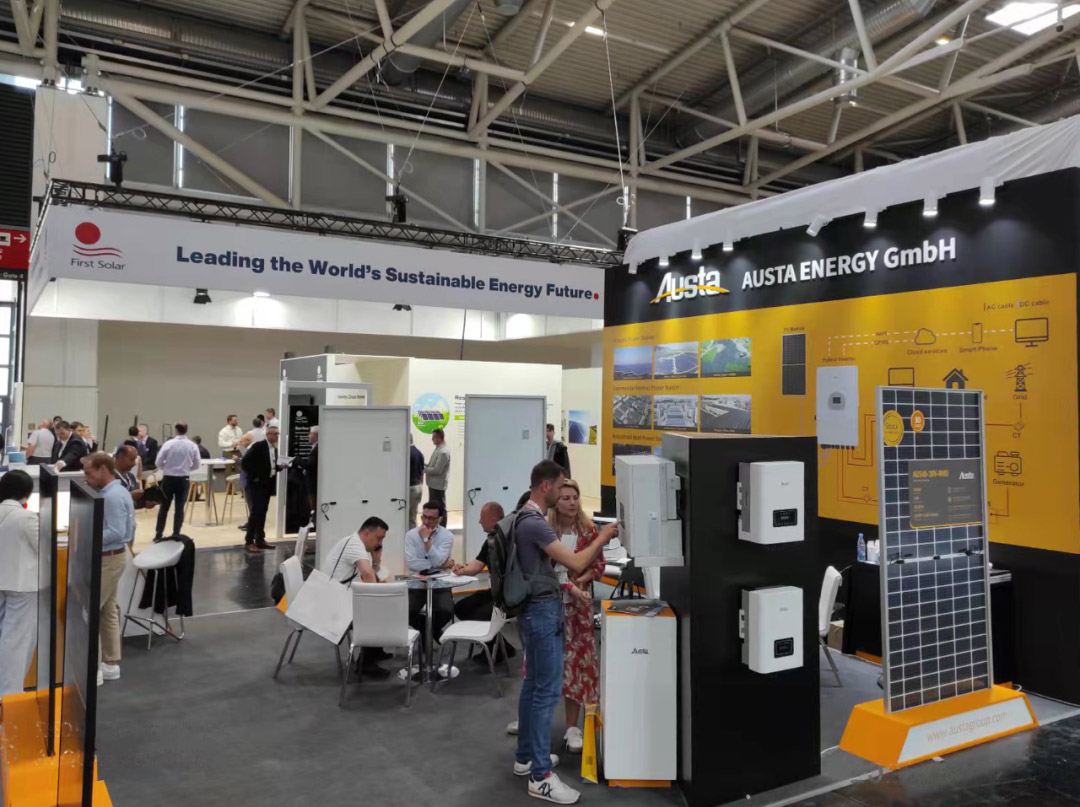 At this exhibition, Austa exhibited 10KW, 12KW and 80KW inverter, 51.2V/100Ah wall-mounted energy storage machine, and 5 types of photovoltaic modules: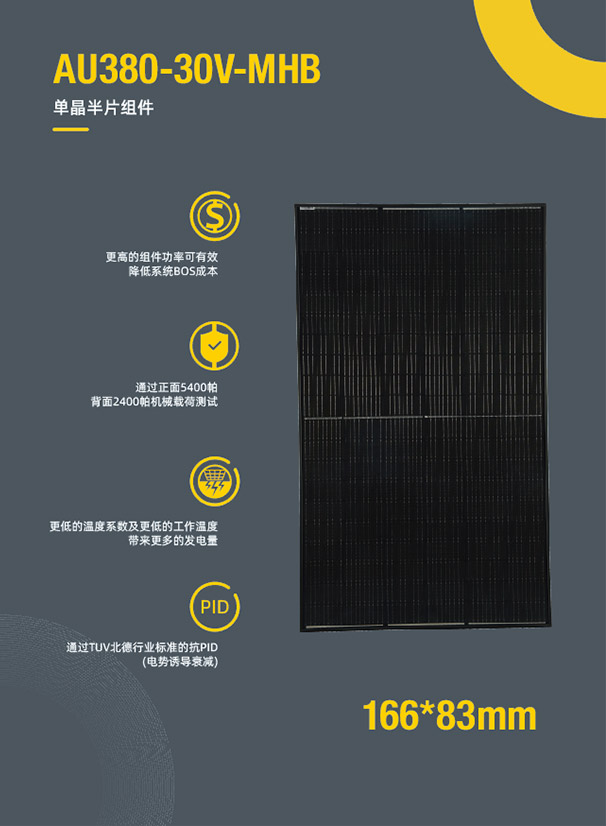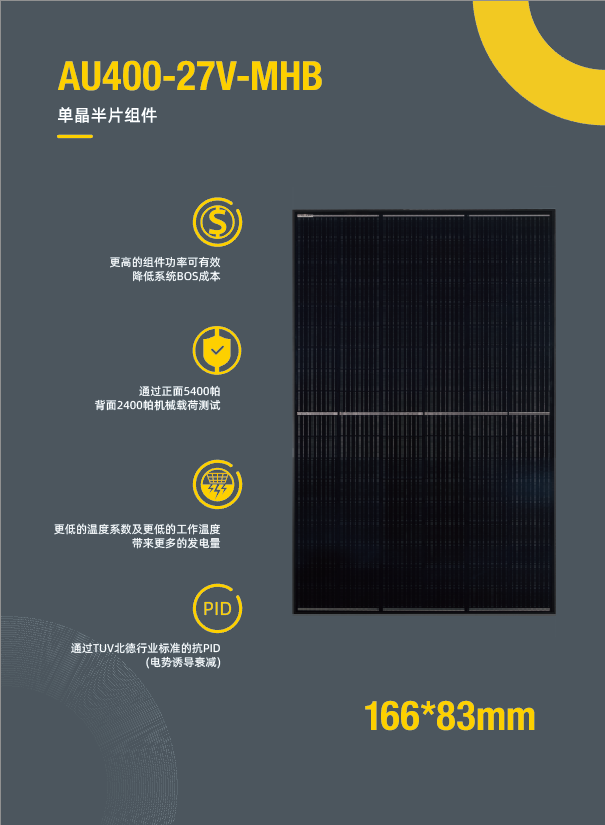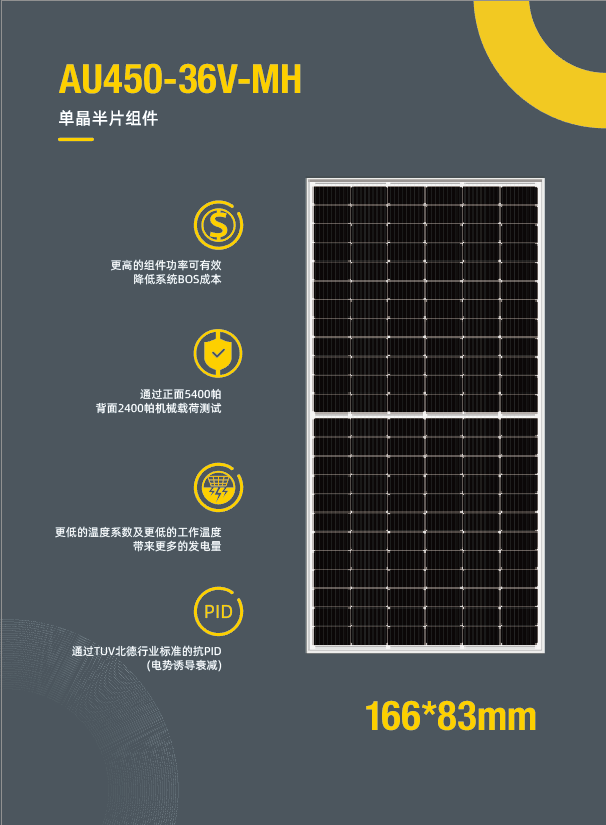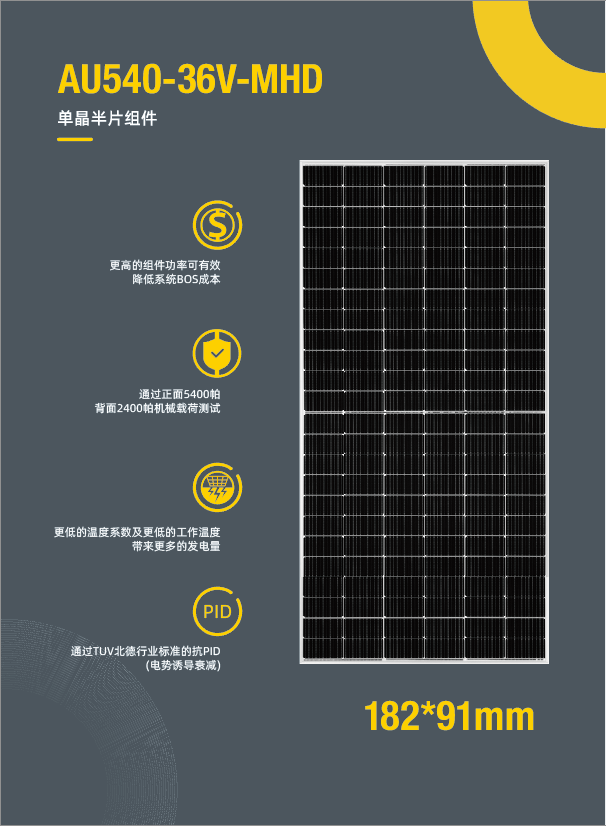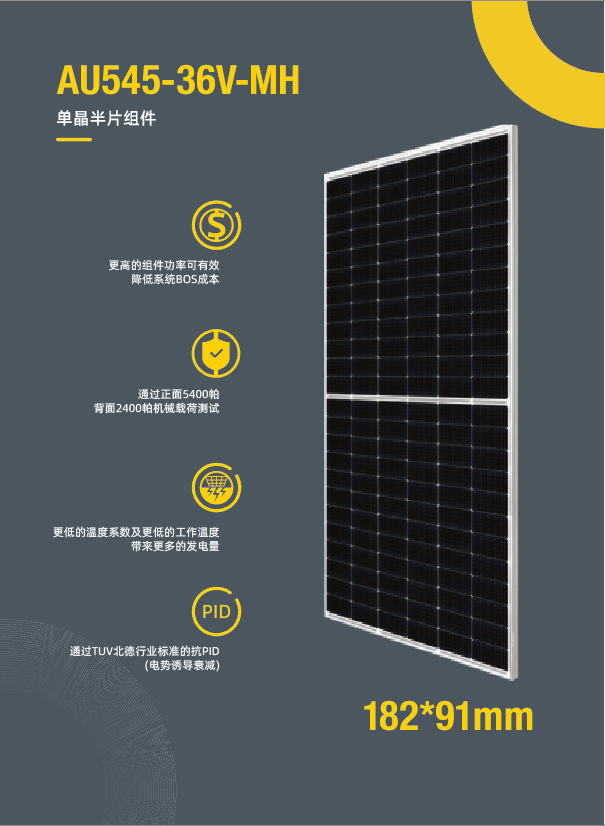 *In picture order
AU380-30V-MHB
380W with 120cells, full black monocrystalline half-cell PV module
Module efficiency: 20.85%
Half-cell technology with new circuit design, lower internal current, lower internal resistance loss
400W with 108cells, full black monocrystalline half-cell PV module
Module efficiency: 20.46%
Lower Levelized cost of electricity (LCOE), Increase power generation and reduce LCOE
450W with 144 cells, monocrystalline half-cell PV module
Module efficiency: 20.70%
High reliability Suitable for high temperature and high humidity areas, resistant to salt spray ammonia, fire rating A
Improved anti-PID performance through battery process optimization and material control
540W with 144 cells, double-glass monocrystalline half-cell PV module
Module efficiency: 20.89%
High power Double-sided power generation, greatly improving the equivalent power generation of modules, Higher module power can effectively reduce the system BOS cost
545W with 144 cells Monocrystalline Half-Cell Solar Module
Module efficiency: 21.08%
High power generation Excellent IAM and low light response performance Lower temperature coefficient and lower operating temperature bring more power output
In the future, Austa will continue to adhere to the values of Value-driven, pragmatic, cohesive and enterprising, strive to achieve the mission of enabling thousands of households to share green energy, Austa is committed to make effort to achieve the goal of carbon peaking, carbon neutrality and promote global renewable energy transformation.