2022 KEY ENERGY PV Italy was held in Rimini, Italy from November 8-11, 2022. The exhibition is the most influential renewable energy exhibition in Italy, and even in the Mediterranean region, and has been held for fourteen consecutive years. This year, it still brings together industry players and famous enterprises from multiple fields such as photovoltaic, wind energy, hydro energy, and ocean energy, to jointly showcase the achievements of renewable energy and sustainable development. In this exhibition, Austa, as Osda's overseas sub-brand, presents N-type TOPCon double-glass high-efficiency PV modules, energy storage inverters, household light + storage integrated off-grid systems, and overall solutions at booth B6-054.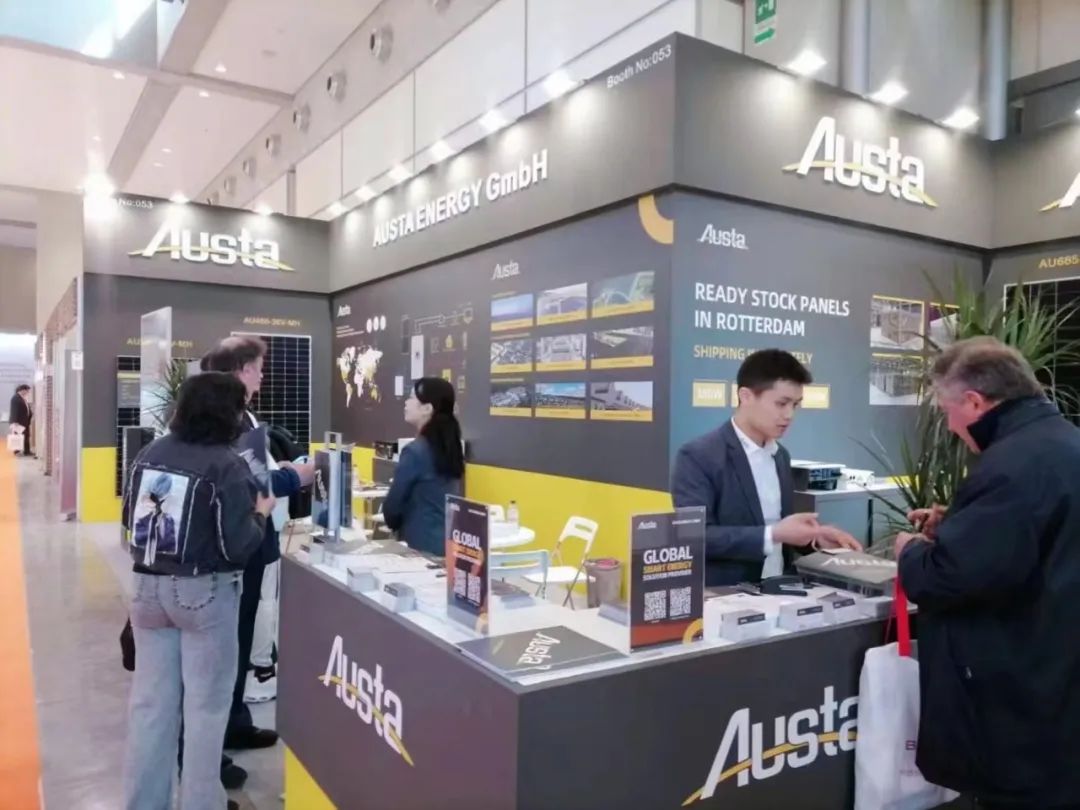 Italy is located on the Mediterranean coast, and its unique geographical advantage brings abundant light and solar energy resources, which also makes the Italian market gradually become a rising "new star" in the European market in recent years. According to the latest data from the Italian Solar Energy Industry Association (Italia Solare), up to now, the cumulative installed PV capacity in the Italian market has reached 23.6GW, and from January to June 2022 alone, the country has added 1,012MW of PV, an increase of 149% compared to 406MW in the same period last year.
In the context of global green and sustainable economic development, the Italian government has also actively introduced a number of stimulus policies and proposed to achieve a cumulative installed solar power generation target of 51GW by 2030, with a broad market development prospect.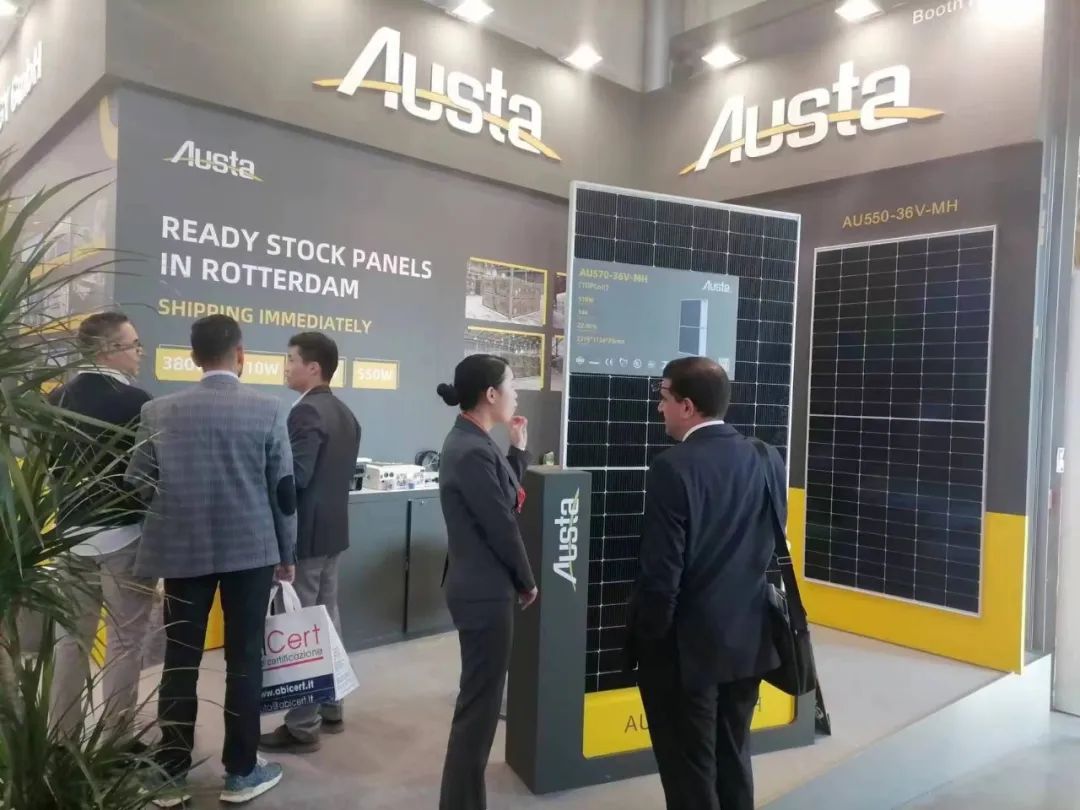 Austa
's new modules based on the mainstream N-type TOPCon technology have been mass-produced and the maximum conversion efficiency of the modules has reached 22.54% by November 2022. With lower attenuation, better high-temperature power generation performance, higher bifacial yield, better low-light performance, and better reliability, the same version of different power modules can flexibly adapt to different application scenarios such as centralized ground power plants, industrial and commercial distributed power plants and household distributed power plants.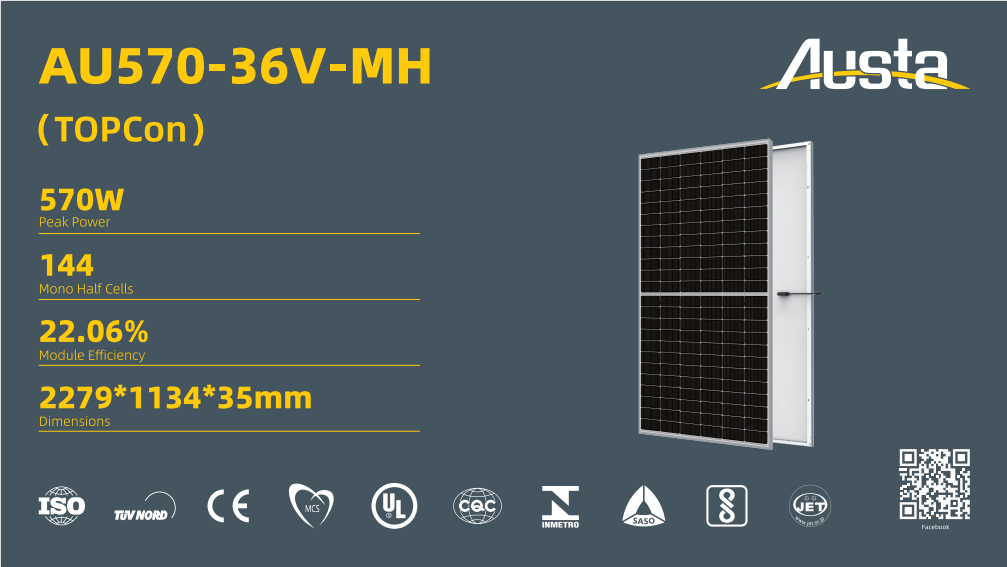 Austa's latest N-type TOPCon cell technology high-efficiency photovoltaic modules compared to the market mainstream oversized current P-type modules, BOS cost, and LCOE decreased by 2% and 4.6% respectively. For different regions, different climatic conditions, and different types of projects around the world, the LCOE can be reduced by about 3.5%-5%, as shown in the figure below.
In the past KEY ENERGY exhibitions, Austa has accumulated a large number of customer resources and rich market experience and continues to explore new customers and distributors. Over the years, Austa has focused on deepening its channel services while broadening the European market:self-built third-party logistics storage in Rotterdam, ensures the speed of delivery; self-built distribution system, ensures a good delivery experience.
Osda, a global smart energy solution provider, always focuses on a global strategic layout. Up to now, Osda has set up overseas offices in more than 10 countries and regions, including the Netherlands, Germany, the United States, India, Bangladesh, Myanmar, Pakistan, etc., with business in nearly 100 countries and regions worldwide. In the future, the company will continue to be committed to creating sustainable value for global customers through win-win cooperation and resource integration, and accelerating the global green energy transformation and upgrading.